Что-то не так?
Пожалуйста, отключите Adblock.
Портал QRZ.RU существует только за счет рекламы, поэтому мы были бы Вам благодарны если Вы внесете сайт в список исключений. Мы стараемся размещать только релевантную рекламу, которая будет интересна не только рекламодателям, но и нашим читателям. Отключив Adblock, вы поможете не только нам, но и себе. Спасибо.
Как добавить наш сайт в исключения AdBlock
Беларусь
EU1EU
Всего в базе данных QRZ.RU 1,579,260 позывных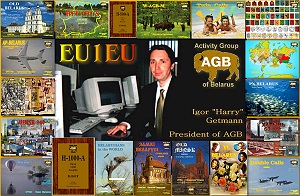 ex CALL(s): OK8EU, UC2ABO, EV5M, EU930EU, UC2WAO, EW2WAO
Игорь Владимирович Гетьман
Igor Getmann
Минск-5, Беларусь
Просмотров:
16,428
President of AGB - Activity Group of Belarus AGB#001, DIG#5021, KDR#011, CIGA#418, AGCW#2659, G-QRP-C#10194, UCWC#808, AFARU#, 10-10#, RCC#190 , RPC#196, SRARS#59, GTC#169, CTC#306, HTC#179, SKCC#, BSCC#, CCT#, ....


International amateur rario club AGB near 300 amateurs radio from 25 countries who interesting Award hunting, DXing, Contesting.
AGB-members-list: http://ev5agb.com/club/agb-list.txt

Application form on English: http://www.ev5agb.com/club/apl_agb_eng.txt
Application form on Russian: http://www.ev5agb.com/club/apl_agb_rus.txt

The application to join AGB club You can sent to me EU1EU - OK8EU - EU1EUster@gmail.com



AGB club have the following Programs:
AGB-Award Programm http://ev5agb.com/award/awards_e.htm
AGB-Trophy Programm http://ev5agb.com/award/trophy_e.htm






AGB-Contest Programm

---
I recommend to you to familiarize with our Trophies who are divided into three groups:
1= For Award & Trophy Hunters.
2= For Contesters.
3= For fans of DXing.

Choose Your favourite Trophy !
Use AGB-TROPHIES for Show and Presentation
of your Victories and Merits in HAM-radio!
---
Information about AGB-AWARD-Program
---
---
Предлагаем Вниманию одну из Дипломных Программ Нашего Клуба
AGB National Parks Reserves Belarus
Условие Дипломной программы
AGB National Parks Reserves Belarus